Thankfully Naughty... what an fantastic idea. How about being thankful that authors are naughty? I like that. Without authors and their awesomely wicked imaginations where would we be? I for one see this warning and, my interest peaked, take a second look.
WARNING: This story is meant for mature (18+) readers.
Not too long ago I stumbled across a completely unknown author. Knowing absolutely nothing about her, I opted to purchase the novellas anyway based on the covers and short blurbs on Amazon. Two days and three novellas later, I found myself recommending them to the girls and just about anyone else who would listen.
Club Duo Series by Kitty Bush
This short erotic story contains: A BBW Latina and two very
dominant males. There's graphic language and sex scenes including: anal, oral,
menage (m/f/m) sexual situations, and lots of pleasure! Enjoy!
Laila:

"I'll teach you what I do to naughty girls"
Laila's friends get her into Club Duo, the hottest sex club in town, for her birthday. She's got one thing on her agenda: Find her old teacher, Mr. Stud, and finally have her wicked way with him.
Elissa:
"I want you to strip for me"
Elissa's finally inside Club Duo, the hottest sex club in town. Her sole reason for being there is to find the man who dominates her fantasies, Mr. Math. She's got one chance to make every dirty fantasy come true and she's not wasting any time.
Laura:
"Your ass is too sexy not to spank it"
Laura is ecstatic to finally be in Club Duo, the hottest sex club in town. She's on a mission to get her hands on Mr. Muscles. But with him comes Sexy Man. Can she handle both?
Did they spark your interest? Well here's your chance to win copies of Kitty Bush's Club Duo series. Don't forget to enter the Rafflecopter for a chance to win all three books.
A little bit of naughty we're all looking forward to...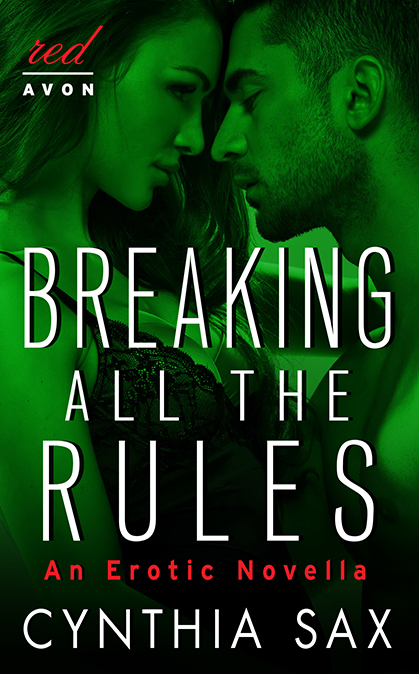 Breaking All The Rules
Nathan Lawford, Blaine Technologies' chief financial officer, is known as the Iceman. He conducts his personal and business affairs without emotion, never allowing himself to become involved with anyone. When Nate sees something or someone he wants, he negotiates, paying a simple, set monetary price.
Now he wants Camille, the company's green-haired intern.


Camille Joplin Trent never expected to be paid to pleasure the man of her dreams. She can't quite figure out why this is a bad thing. Nate is intelligent, handsome, sophisticated, everything she's ever wanted in a lover and never thought she could have. Their contract is for a month, thirty lust-filled days of making every sexual fantasy they've ever had come true. At the end of this month, the rules state their relationship will end.

Of course, Camille has never been good at following rules.
Pre-order your copy now for only .99
Pre-order now on Amazon:
http://www.amazon.com/Breaking-All-Rules-Cynthia-Sax-ebook/dp/B00F2I2GXY
Pre-order now on B&N:
http://www.barnesandnoble.com/w/breaking-all-the-rules-cynthia-sax/1117377083
Don't forget to stop by the other stops on the blog hop
for several more thankfully naughty giveaways