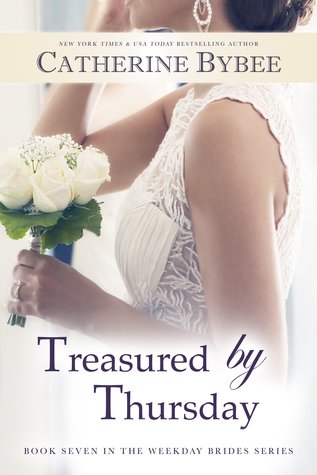 Blurb:
The seventh and final tale in the dazzling, heartwarming, and pulse-racing Weekday Brides series.
Gabriella Masini: She's a woman haunted by her past, with the scars to prove it. She believes that fairy tales are for other people. An elite matchmaker at Alliance, she's great at crunching numbers, but something doesn't add up with her latest prospective client: a billionaire bad boy with his own secrets. When Gabi refuses to be his temporary wife, Hunter forces her hand with an offer she can't refuse. But marriage to a man like that could never last…or could it?
Hunter Blackwell: Only his bank account is bigger than his ruthless ability to obtain anything he wants. These days, he has a secret reason to settle down, at least for a while—and he thinks the sensual and sassy Gabi will fit the bill perfectly. But when their marriage of convenience becomes downright dangerous, Hunter must decide how far to take his vow to honor and protect Gabi forever.
Review:
Gabriella Masini is a woman with a past. One she'd like nothing better but to forgot all about. Working with Alliance, she is a wiz with numbers and is rarely put in a position where she must interact with the possible clients. This changes when an emergency has her boss asking her to personally vet a new potential client. Things get interesting when the numbers just don't add up.
When this new client decides she is the temporary bride he wants things get very interesting. Blackmailed and left with very little recourse, Gabriella goes a long with the temporary marriage but she's got some conditions of her own before she signs on the dotted line. What kind of man blackmails a woman into marriage after only knowing her for a couple of days? Hunter's pushy and underhanded ways really made me want to dislike him. However, we soon learn of his motivation and why it was so imperative for him to get married. When that happens, we can't help but like him even if he was acting like an entitled jerk thinking his billions could get him whatever he wants.
I thought I would have issues with Gabriella at first. She's not fully living, just seemingly going through the motions. She's hiding from the world using her past as an excuse. I understand what she went through and yes, it was tragic and the type of thing most people would want to hide from. However, the person that caused her problems is dead. So theoretically she should feel wary but safe in her new life. Yet she's hiding behind steel doors and security cameras. This is why I absolutely loved that Hunter brought some fight back in to her. No longer so easily cowed and pushed to the background, Gabriella gives as good as she gets. That's the spirit of a survivor. Hunter does what no one else will. He forces Gabriella out of her comfort zone and pushes her to confront her past. Everyone else coddles Gabriella to the point of encouraging her to hide form the world. Hunter, underhanded moves and all, was actually good for Gabriella.
With the added sudden danger coming from Gabriella's past, Gabriella will need to be stronger than she has ever been. Hunter may just be the perfect man to have in her corner.